Porcelain Veneers in Okotoks - Dentist Okotoks - Dr. Scott Gallup
Porcelain veneers are used to craft a natural looking tooth while simultaneously providing strength and certain other characteristics of a natural tooth's enamel. Veneers are very thin shells made of porcelain, the material of choice for those looking to make certain alterations to disagreeable characteristics of teeth, such as changes in the shape, size and/or color. It is a suitable treatment for stained, chipped, crooked or discolored teeth. Porcelain veneers can furnish your smile with beautifully aligned, radiantly white teeth, while ensuring their longevity via highly durable materials.

Contact us or visit us now in Okotoks, AB, to know more about porcelain veneers and whether they can provide a progressive outcome for you.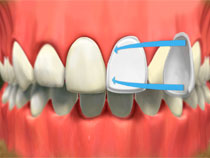 Last Updated On
2021-10-25