Full Mouth Restoration in Okotoks - Okotoks Dentist - Dr. Scott Gallup
FULL MOUTH RESTORATION - SMILE MAKEOVER IN OKOTOKS
If you're looking for a smile makeover, full mouth restorations, or reconstructions, they are available at our dental office, located in Okotoks, AB. Dr. Scott Gallup will initially carry out a comprehensive examination for your entire mouth, enabling us to determine your available treatment options. The dentist will essentially examine the condition of your teeth, gum tissues, jaw muscles and the appearance of your teeth in terms of their shapes, sizes and proportions. The examination process includes taking impressions of your mouth using x-rays, taking photographs, impressions of your lower and upper teeth and moulded models of your teeth, which are created after impressions, are taken of your teeth and bite. Dr. Gallup will then derive an entire treatment plan for you based on the specific details pertaining to your requirements. The full mouth reconstruction procedure may include one, or several, of the following treatments and procedures– teeth cleaning, periodontal care, dental crowning, repositioning the jaw, porcelain veneers, dental implants, porcelain inlays/onlays or dental bridges, made of ceramic, metal or a combination of both. 

Full mouth restorations ordinarily involve general dentistry, restorative dentistry, with potential input from specialists such as periodontists, orthodontists or endodontists (if required). Dr. Gallup will use a variety of restorative and cosmetic procedures to help your smile achieve a healthy, beautiful state.

For any questions or concerns please do not hesitate to contact us!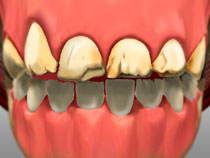 Last Updated On
2021-10-25