Bonded Fillings in Okotoks - Dentist in Okotoks Alberta
Tooth-Colored (or "Natural") Bonded Fillings | WHITE FILLINGS IN OKOTOKS
In the past, dental complications such as cavities or trauma to teeth generally led to one feasible treatment option: restorations via metal or amalgam fillings. We are pleased to advise patients that scientific advances in dentistry have led to the creation of a resin that, when bonded to a tooth, provides a long lasting dental filling that looks natural. A patient might require a bonded filling if they have existing leaking, or worn-out, fillings. As well, patients whose teeth incur damage from clenching and grinding their teeth, or who do not find their fillings aesthetically pleasing can benefit from composite dental restorations. Arrange an appointment with your Okotoks dentist for more information on your options with bonded fillings. 

Best of all, composite restorations can typically be applied within a single appointment!
To know more about bonded fillings, contact us or visit our dental practice, located in Okotoks, AB!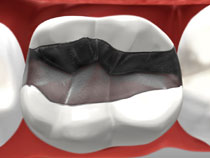 Last Updated On
2021-10-25