Porcelain Inlays & Onlays fillings in Okotoks - Dr. Scott Gallup
These are best suited for molars (back teeth,) and are used for restoring visible tooth surfaces. Porcelain inlays & onlays offer strong and attractive alternatives to traditional composite fillings. They are considered as a very suitable option for teeth that require restorative work that bear heavy chewing loads. Porcelain inlays & onlays offer added protection, with the strength of a crown, without any need for extensive tooth preparation. They are composed of a strong, tooth-colored material, similar to what is used in preparing crowns and bridges. Porcelain inlays/onlays are custom-made to perfectly match the shape and color of your surrounding teeth and are stronger and longer lasting than composite restorations.

Contact us or visit our dental office today, we are located in Okotoks, AB!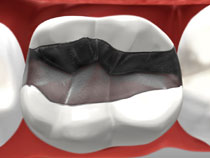 Last Updated On
2021-10-26